Paintless dent repair is a fine art, one that the experts here at Collision Center of Andover have spent years perfecting. We've dented many a car, just so that we can practice the best methods of fixing it. So, that when that hellacious hailstorm patters against your car, you needn't worry. We remove dents and repair the damage day in and day out. We'll get it back to its aesthetic glory without you having to pay an arm and a leg.
Paintless Dent Repair: How It's Done
Fixing a dent isn't as simple as popping the metal back into position and then giving a satisfactory smile. When your vehicle is dented, it reshapes and transforms the metal itself, and in order to fix it, that metal has to be moved back into its original position. As you can imagine, this isn't as simple as taking your bathroom plunger and popping it back out. This requires professional body repair.
First, we ready our wide selection of tools to help edge that metal back to where it belongs. We also ensure that your vehicle has the perfect lighting so that we can see the dent from every angle. The last thing we want is for us to "fix" your dent and then for you to notice that the metal isn't quite right. So we at Collision Center of Andover take every effort to ensure that we do the job right the first time.
Paintless dent repair also requires that we get behind the panel, and to do that, we must remove any of the trim that happens to be blocking us. This may be tricky for your doors, depending on how they're made, but fortunately we have a technique for that, too. By slipping in through the window cavity, we gain access to these dents as well.
Once we've finished restoring the metal, we inspect the area under various lighting levels and angles to ensure that we've done a masterful job. If not, we'll go back and fix any imperfections that may remain.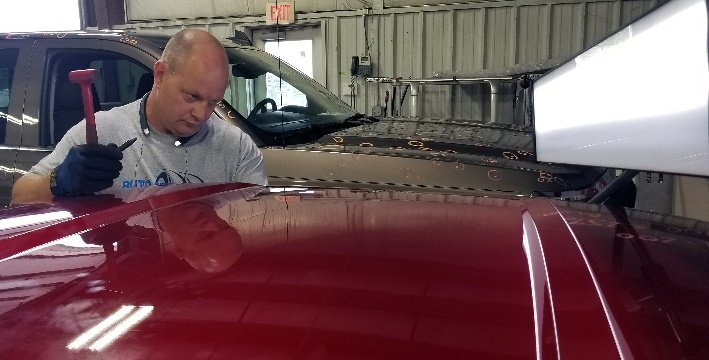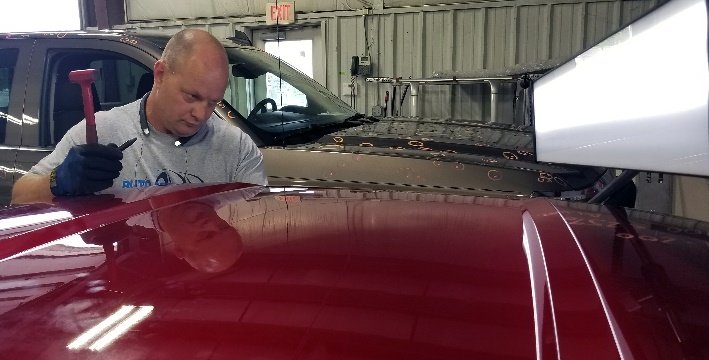 Reach Out to Us!
We here at Collision Center of Andover strive to ensure that no matter how dinged or dented your vehicle is, we'll have it fixed for you in virtually no time at all. When you need a professional dent puller, just stop by! We are conveniently located just minutes outside of Wichita and are proud to have customers from all over the Wichita area.
If you are interested in finding out more about our paintless dent removal service or any of the other services that we offer, contact us today and see just how we can help you!
Auto Body Blog & Helpful Articles