Does a Dented Fender Need to be Replaced?
Cost & Considerations for Repairing a Dented Fender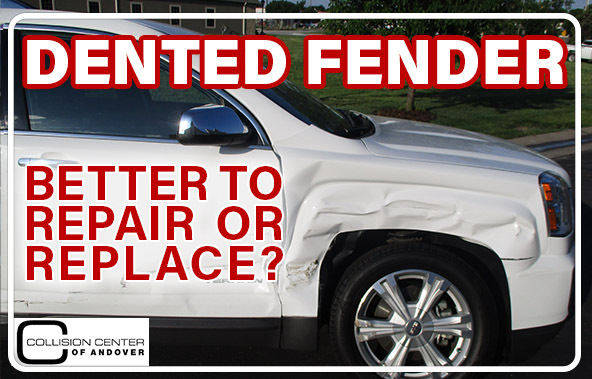 When it comes to collision repair, a dented fender is a relatively common problem. Whether it is a minor fender bender or something more serious from a vehicle collision, a car's fender can take a beating. A front fender is especially in a position to face more if its share of bumps and scratches. But if it does get damaged, does a dented fender always need to be replaced?
At Collision Center of Andover, we have handled thousands of dented fenders from drivers from Wichita to El Dorado and everywhere in between. We have seen all different types of damage can find a solution to getting the dent out and restoring the vehicle to look like new again. But while we can repair or replace any type of damaged fender, whether it needs to be replaced is a different question.
When a Fender Does Not Need to Get Replaced
Some dented fenders have such minor damage that it does not need to be repaired or replaced. It will still do the job the fender was built to do. However, you will probably be less than happy driving around with a dented vehicle. Sometimes a fender repair is essentially a cosmetic fix to get a vehicle looking good again.
Another time when a fender may not need to get replaced is when the damage is not very severe. A minor fender bender happens to a lot of us. When the dent or other damage is minor, it can usually need a simple repair. A fender repair can be different depending on what the damage is and who you go to.
Here at Collision Center of Andover, we are the Wichita area PDR experts. PDR stands for Paintless Dent Repair. It is a repair technique that allows us to get out bumps from your vehicle without needing any sort of painting or repainting. The results are not just quick, but they are amazing. Check out this page for a video to see PDR in action inside our state-of-the-art autobody body shop.
When a Fender Needs to Get Replaced
If the damage to the fender is significant enough, it should get replaced. While that may sound like you are in for a timely and expensive repair, think again.
Fender replacement is almost always cheaper than replacing a door, for example. And depending on parts availability, replacing a fender can even be quicker than a fender repair.
When you find yourself with a dented fender, it is important to keep in mind that what you see may not be the only damage your vehicle has. A collision can cause damage to parts of your car that may not be easily noticeable. You may be tempted to ignore a little dent, but you should not. What seems like only a minor fender bender can also have hidden damages.
Determining whether your dented fender needs to be repaired or replaced may not be obvious to the owner. That is why our expert technicians at Collision Center of Andover will do a thorough job to inspect the damage. Then we work with the customer to explain their options including cost and expected repair time. We will arm you with the information to make the right decision on what is best for your vehicle and your budget.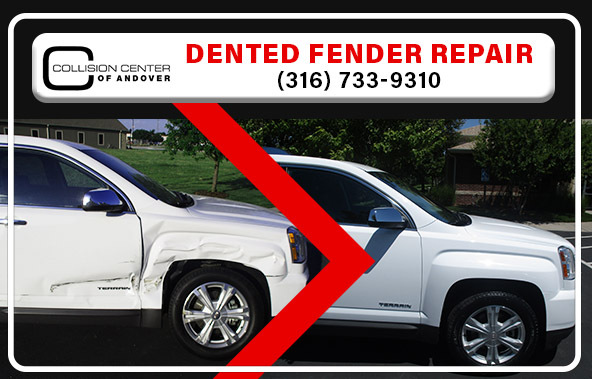 How Long Does It Take to Replace a Fender?
Replacing a fender takes a lot less time than you probably think! Depending on parts availability, a fender replacement can even be quicker than a fender repair. An older or specialty vehicle may require a longer wait time. This can also be true when factory parts are no longer made for a vehicle.
Other factors such as weather and supply chain issues affect how long this work will take. Read this article for the 9 biggest factors that impact how long any sort of vehicle collision repair can take.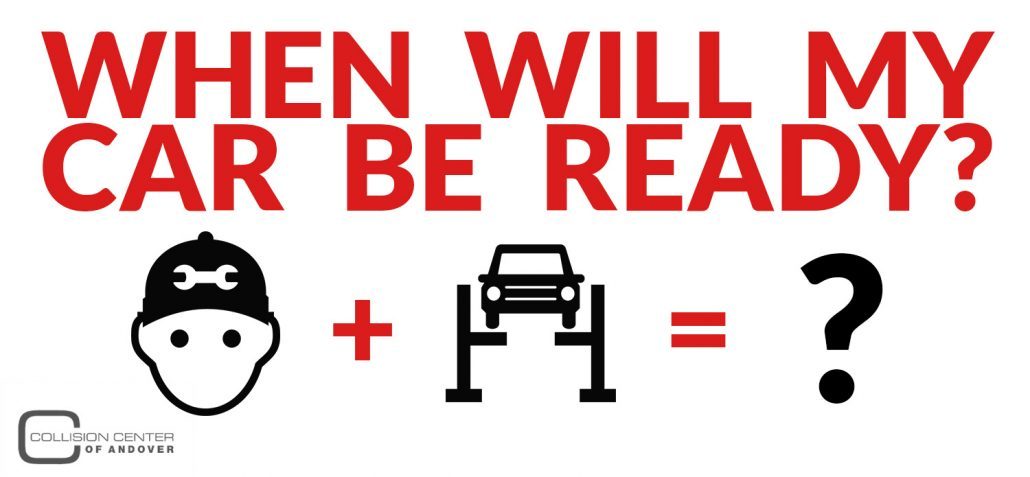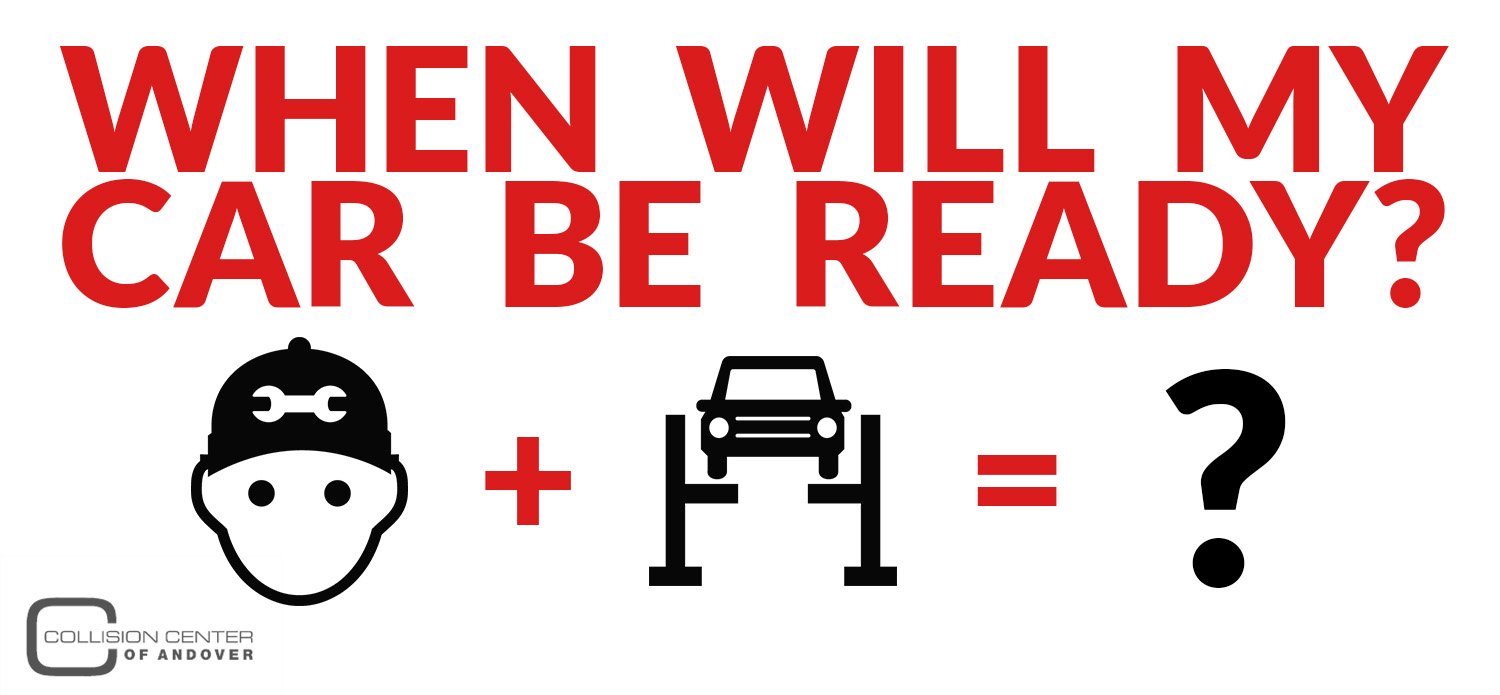 Wichita Area Car Fender Service You Can Count On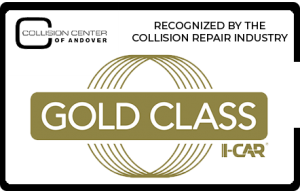 When you have any collision damage including a dented fender, you can always bring it to the I-CAR Cold Class certified auto body technicians at Collision Center of Andover.
Our skilled team of auto body technicians provides quick repair and replacement of dented fenders. We can provide service to any type of vehicle. We work with you and your insurance company to get you the proper service that will get your vehicle back on the road and look like new again.
We stand behind that promise with a lifetime guarantee on our workmanship.
Need a dented fender fixed? Call Collision Center of Andover at 316-733-9310.
Our Collision Center of Andover state-of-the-art autobody shop is in Butler County, mere minutes outside of Wichita. We are the preferred auto body collision repair shop for customers in the Wichita area and beyond, including El Dorado, Benton, Augusta, and Rose Hill.