Full Collision Repair
Collision Center of Andover is your one-stop shop for collision repair. We'll restore the body of your vehicle to its pre-collision splendor and ensure that everything under the hood purrs wonderfully.
There are a few phases to the repair processes, and our helpful auto body experts will guide you through each one, from estimate, to ordering the parts, to the repairs themselves, to finally returning the vehicle to you, as good as new, and we're happy to answer any questions you may have along the way.
Beginning Repairs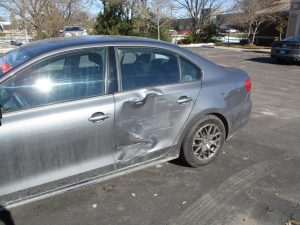 If the repairs are minor, and the car is drivable, it should be a quick process to begin repairs, but for more severe collision repair, your insurance company may request a tear down to document every bit of damage, and to determine whether the repairs make financial sense. Ultimately, though, the final sign-off on commenting repairs falls to you, the valued customer.
From there, we'll order all necessary parts, and once they all arrive, the mechanics and experts at Collision Center of Andover will begin restoring your vehicle back to factory specifications. We'll ensure that the suspension and frame are both in perfect condition, and then follow that to the wheels and the engine. When your car will be ready depends on a variety of factors. We work diligently to deliver your restored vehicle to you as quickly as possible. The time frame will vary depending on the amount of damage, but typical repairs take anywhere between 1-3 weeks. We can typically complete light body work within days.
Completing the Finishing Touches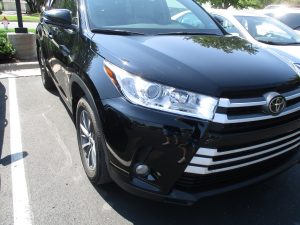 Once the car repairs are complete, and everything is structurally sound, your vehicle is ready to be painted. Collision Center of Andover are your experts in the Wichita area for complete vehicle repaint and restoration. All parts are prepped to ensure proper adhesion and a stunning finish. Each part is sanded, and a primer is applied before the base coat of colored paint. Then, a clear coat will help ensure that the paint job shines and is protected. Polishing comes last to ensure a glossy finish.
From there, it's time for your vehicle to be reassembled. Anything that we disconnected to help facilitate repairs, such as electrical wiring and airbag systems, will be reconnected, and trim and moldings are reattached. Finally, we'll perform a brief test drive to make sure everything is functioning correctly – such as doors and windows, as well as locks.
Last Steps
Once all repairs and complete, the car's been painted, and thoroughly test driven, it will receive a wash and interior cleaning, and the paint will be polished. Then we'll explain to you everything that was done, and provide a full list of expenses and parts used to complete the work. After you've completed your own inspection of the completed repairs, you'll be given the keys and are free to take your fully restored vehicle back on the road.
If you have any questions about the collision repair and restoration process, contact us today. Call us at (316) 733-9310. We're happy to hear from you!
Check out some amazing before and after images of the collision repair work we have done.