Customers Rave Reviews for Collision Center of Andover

"Super fast and easy! Got rear ended. Made claim and selected this shop. Was called immediately to set everything up. Dropped car off and was done in 6 days! They also handled the rental car."

E.V. – Wichita, KS
Collision Center of Andover received that review in February 2023 on Google. This customer is like a lot of other drivers who has had the unfortunate experience of getting rear-ended.
There is never a good type of collision to have, but for getting rear-ended can be one of the most surprising ones to experience. We've probably all seen it happen, especially in certain parts of Wichita.
Rear Ended on Kellogg?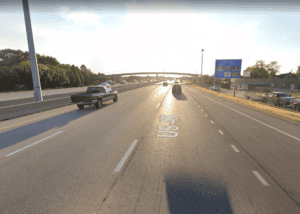 Imagine this. You're driving along Kellogg during the rush-hour commute home. Just as you approach the short Hillside exit, suddenly a few cars try to squeeze into the bumper-to-bumper traffic in the right lane.
Cars suddenly break, yet one driver looks away for even the briefest of moments and misses seeing that all the cars are slowing down ahead. So, he hits the car in front of him, sending a cascade of vehicles rear-ending each other.
The negligence or inattentiveness of one yahoo driver on Kellogg (or anywhere else around Wichita) is all it takes for a crash like that to happen. That's why even "perfect drivers" are prone to rear-end collisions.
Wichita Car Accidents: Rear End Collisions on The Rise
You don't have to wait long to hear about another rear-end crash in Wichita, Kansas. In fact, just recently many of these kinds of vehicle accidents have made the news.
In March of 2023, three people had to go to the hospital after their minivan was rear-ended on 1-135 in north Wichita. It happened late on a Wednesday morning near the K-96 junction. As they entered a work zone, the traffic required the minivan driver to come to a stop. But the driver in the new Ford truck behind her didn't and so rear-ended the minivan.
And this isn't the first time a rear end accident happened here. Just last fall during the evening commute, a young woman was yielding to traffic that had slowed down due to a different kind of wreck that had just happened there on I-135. But her 2021 Kia was suddenly struck in the back by a woman behind her in a Nissan Altima.
You don't have to be in a small vehicle to be at risk. Even a Wichita Public School bus was rear-ended on Meridian Ave one early Thursday morning. Fortunately, no students suffered any serious injuries. But that goes to show, even distracted drivers may not even notice the vehicle in front is stopping, even when it is a huge bus!
What To Do if You Get Rear Ended?
If you find yourself in a rear-end collision, whether you were the one who caused it or not, there are some things you should know to best handle the situation.
First and foremost, get any needed medical attention. If anyone is possibly dealing with any type of injury, call the Sedgwick County 911 dispatch.
Even if it doesn't seem like the injuries are severe, if anyone appears even slightly hurt, you should always call 911. Sometimes injuries aren't immediately obvious, such as concussions or internal injuries. EMS will want to check out the situation and ensure everyone is okay or gets the necessary treatment.
Exchange information with the other driver, or drivers if this was a multiple vehicle rear-end collision situation. You will want to have the driver's license and the insurance information of the at-fault driver. And if that is you, be prepared to give that information to the others involved in the crash. If the driver at fault does not have car insurance coverage, you may be able to get compensated from your own insurance company.
Consider looking for the name of a lawyer. Once you need to start dealing with insurance companies, you may find yourself in a legal mess, and one that only a good Wichita accident lawyer can really handle. You only need to look around at the billboards around town to find dozens of options for Wichita lawyers ready to help after a car wreck!
And of course, you will need to get your car repaired after a rear-end collision. That's where Collision Center of Andover comes in. We have the area's state-of-the-art autobody shop that handles everything after a vehicle is involved in a crash.
Rear End Car Repair for Andover & Wichita Area
From handling massive repairs to your suspension and frame to getting out the tiniest of dents and everything in between, Collision Center of Andover has the reputation of being the Wichita area autobody shop that gets your vehicle back to looking like new again!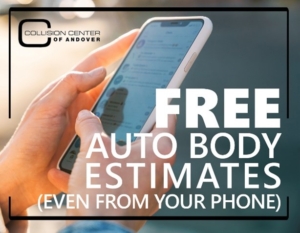 Collision Center of Andover has been providing quality vehicle repair since 2006. We are one of the few Wichita area auto repair shops recognized by the collision repair industry as a Gold Class i-Card facility.
We are your one-stop shop for full line collision repair.
Give us a call at 316-733-9310 to fix your rear end collision damages. We even provide FREE auto body estimates from your phone! Just click here to our collision repair quote page to fill out the information and upload any photos.
Your rear end repair quote is just a few clicks away!