Does my Car Need a Paint Job?
4 Things to Consider Before Getting Your Vehicle Repainted
Is your vehicle looking a bit dingy these days? Whether you're dealing with scratches in the paint or a hood faded from the sun, it's disappointing to see your car looking far worse from when you first bought it.
At Collision Center of Andover, we have seen all the ways that a vehicle can look weathered, old or out of shape. After all, our specialty is fixing vehicles damaged from a collision. Often times the work needed to get a vehicle back to looking like new requires some sort of paint job.
The talented team at our auto repair shop has a lot of experience in knowing when any sort of paint job is needed for a vehicle. Our goal is to get your vehicle looking as good as the day you first drove it off the car lot. Sometimes that means repainting, and sometimes it doesn't.
There are several things to factor when considering whether you need a complete paint job, a paint match job for part of your vehicle or some other service altogether.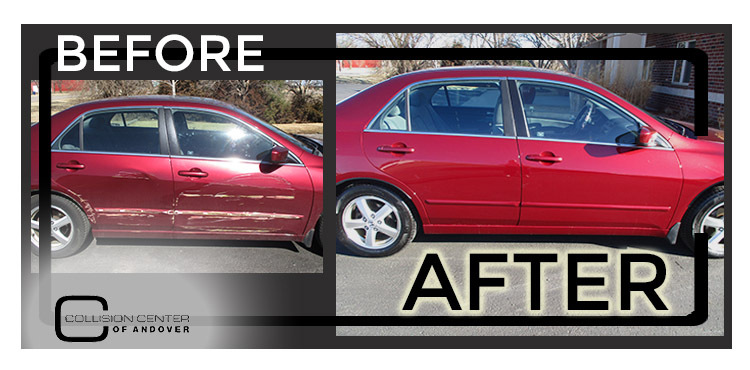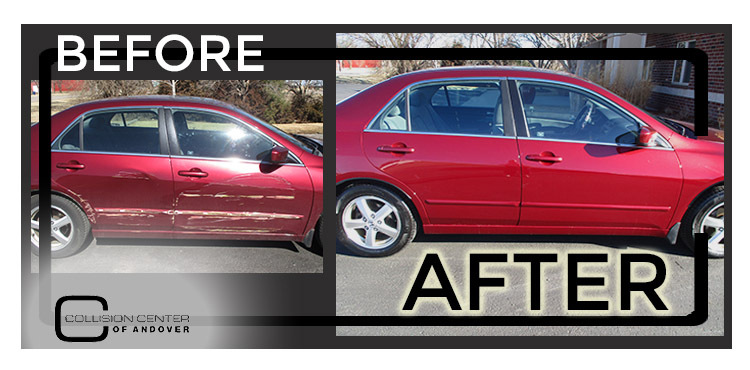 Is it time to get your vehicle painted?
There are a lot of great reasons to choose to get a vehicle repainted. It does not have to take a car accident to determine your car needs to be repainted. A car's paint that has faded in the sun or has been affected by other environmental factors are common reasons to want a new paint job. Did you know that if you have a black or red car, you are more likely to notice fading paint on your vehicle? If you've been disappointed in how your vehicle's been looking lately, it may be time to get it repainted. However, before you do, here are some factors to consider before heading to an auto paint shop.
4 Top Considerations for Getting a Car Repainted
1. Is there a cheaper fix for your car?
What looks like a very bad scratch or dent might not be as bad as you think. Here at Collision Center of Andover, we have decades of experience working with all degrees of vehicle damage. We fix all auto body problems – big and small.
For a lot of the small problems, no paint job is needed. With the technique of Paintless Dent Repair, we can get that dent out of your vehicle without ever affecting your paint. Collision Center of Andover prides itself on providing the areas most expert paintless dent repair service.
Sometimes scratches on your vehicle are not very deep. There is a layer of clear coat above the actual paint layer on your vehicle. If the scratch has not gotten down deep enough, the damage can likely be repaired without a complete paint job.
Go to a reputable auto shop company to be sure that you are getting ONLY the work your vehicle needs, and not paying extra for service it doesn't.
2. Does your vehicle have bigger issues that need to be handled first?
If there is damage to your vehicle beyond the paint, you likely need to have that fixed before any paint work can be done. Do you have rust spots, dents, pits, or gouges? A shiny, new paint job will only highlight any damaged area your vehicle has.
You don't want to be surprised with a shiny dented vehicle. And you also don't want to be surprised by a huge bill for the additional repair work. Contact us for auto body repair free estimates so you know exactly how much you may be having to spend for the needed restoration work.
3. Are you repainting for the right reasons?
Are you trying to sell your car? You may think that a clean, new paint job is going to increase the value of your vehicle. Well, you are right about that. But in doing so, are you going to end up spending more for the paint job than the extra you'll get in return?
If you are getting the paint job solely for improving the sale of your vehicle, do your research first. Make sure the amount you can expect to be paid for a newly painted vehicle makes it worth the cost of repainting it.
Collision Center of Andover offers competitive pricing for vehicle paint service and all other auto body work for the Wichita area. Contact us for a free estimate on how much it will cost to repaint your vehicle.
4. How to avoid a paint job rip off
Painting a house is easy, a car can't be all that hard? While you may realize how ridiculous of a statement that is, a lot of other people don't. Do not get fooled by some friend of a friend or a guy with a sign claiming he can paint a car for cheap. Sure, he will paint it for less, but you could end up with a car in much worse shape than before.
To repaint a vehicle properly, you need to have a level of skill that requires training and years of experience. Fortunately, that's exactly what our guys at Collision Center of Andover have.
Get a Quality Paint Job in the Wichita Area
Collision Center of Andover has been repainting vehicles for decades. Located conveniently just off Andover Rd, we provide service to the entire Wichita area. Among the services we offer are Vehicle Restoration and Complete Vehicle Repaint. We guarantee paint color match with your vehicle's original color and will get it looking as good as new.
Call us at (316) 733-9310 to find out how we can restore the look of your vehicle. You can also contact us online for a free estimate.