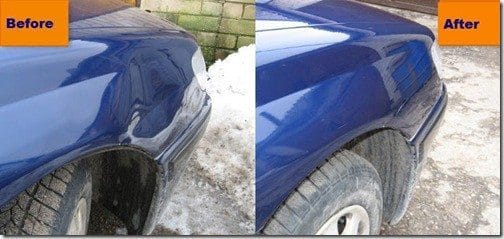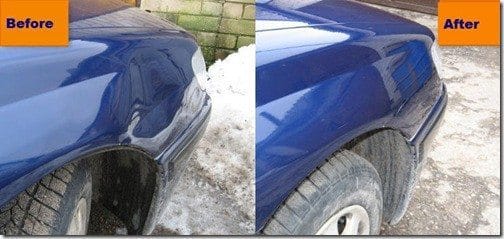 Paintless Dent Repair 101
Whether you were in an accident, you were trying to teach your son or daughter how to parallel park, or you simply sat inside while hail ravaged your car, dents are a fact of life for almost all car owners. Dents and dings often don't hinder the performance of your car (though they sometimes can), but they do ruin the aesthetic appeal of your car.
Many people are afraid to get dents fixed because they are worried that it will cost them an arm and a leg to have the dent removed, the paint fixed, plus some may worry about the time and labor involved in repairing dents. However, paintless dent repair (PDR) means that you don't have to go through all of that struggle and all of that cash!
Paintless dent repair is designed to remove the dent, get your car back to its original shape, and look great – all without compromising the vehicle's paint job.
At Collision Center of Andover, we have vast experience in repairing cars while still keeping that factory paint in pristine condition. We have been trained thoroughly on the complicated art of paintless dent repair, and would love to help you with your car.
Check out this picture that shows just how well paintless dent repair works: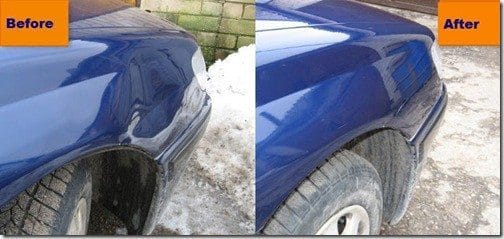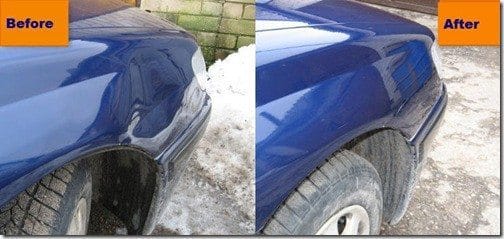 Why get paintless dent repair?
Paintless dent repair is the best way to maintain your vehicle's value, even after having a problem. Dents and dings, at least according to Auto Trader, will decrease your vehicle's resale value, especially if you have to get them patched with paint that isn't the factory paint finish.
Paintless dent repair also keeps the turnaround time to a minimum as we are able to get your car back to you in a few days, as opposed to a few weeks for conventional body work and paint.
Fixing the Dent:
While you might be able to find a ton of online tutorials on how to fix a dent by yourself – techniques that include anything from machines that you can rent from your local hardware store to plungers that you can find in your own bathroom, we at Collision Center of Andover have a word of advice: DON'T DO IT.
Those who specialize in paintless dent repair have gone through many hours of training and have practiced on countless cars so we know exactly what we are doing. Trying to remove the dent yourself could result in bigger problems, wasted time and worse, may hurt your paint to the point that we cannot save it.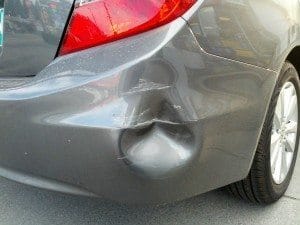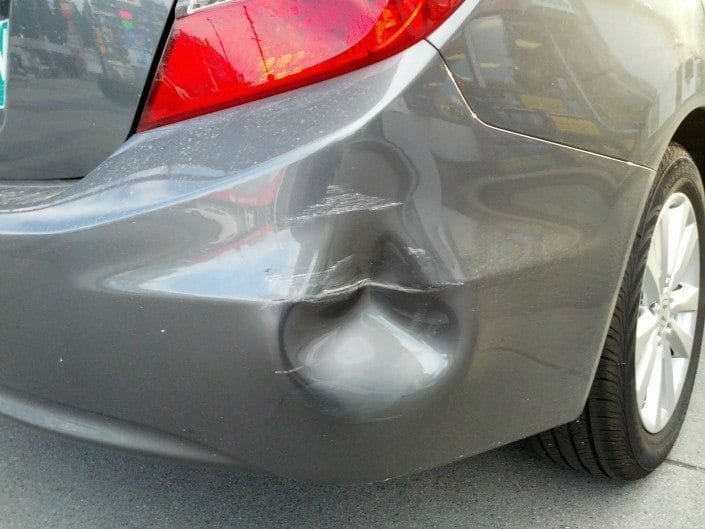 Still, if you want an overview on how we will approach your car, or what happens during our Paintless Dent Repair service, keep reading!
Step 1: Free access to the dent.
When we first start to remove your dent, we have to access the dent. The removal is done from the underside of the panel, so we have to have that free access to get to the dent itself. To free up that access, we have to remove any of the trims that are in our way. For example, if the dent is on the roof of the car, we will have to remove the hood sound pad so that we can access it. However, there is one place where we might not have to remove trims. If your dent is in your door, there is a method we can use where the window opening is utilized.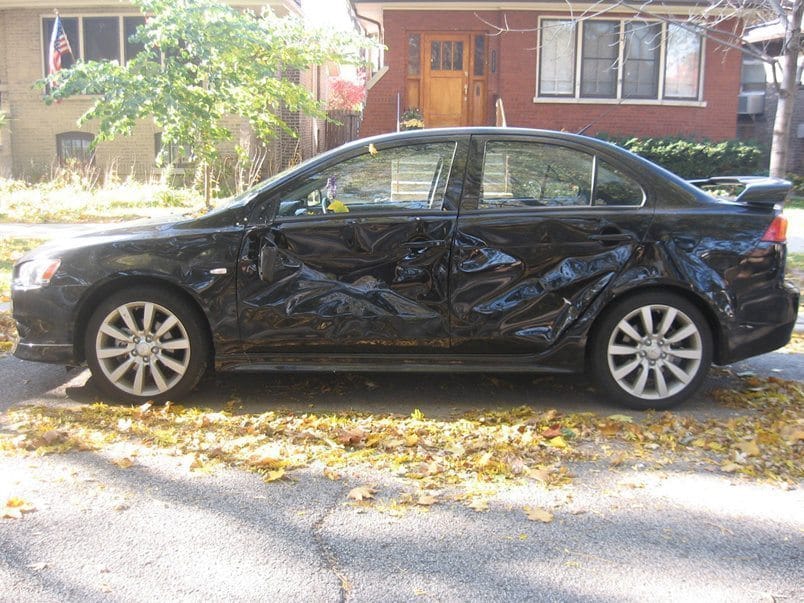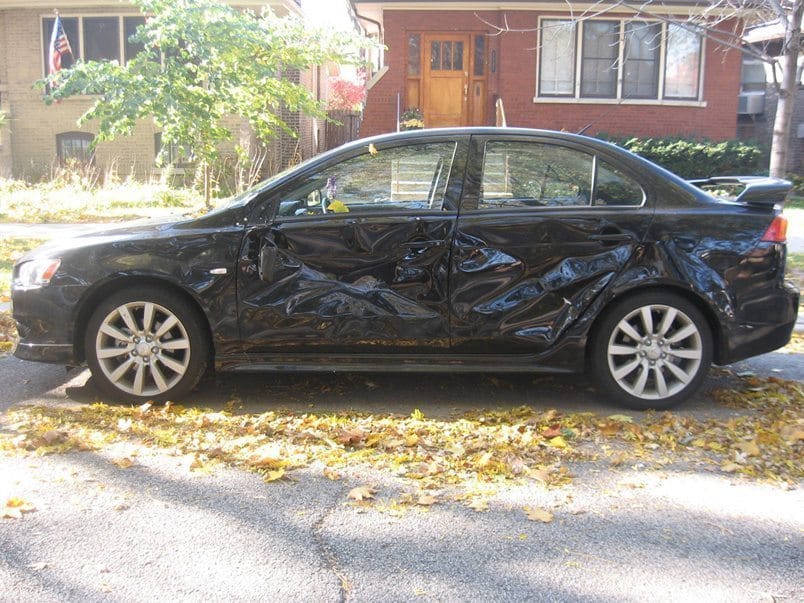 Step 2: Setting Up the Area
We have to make sure that we have the proper lights that will allow us to see every single level of the dent. This includes setting up dent lights, but we also have to open all of the doors so that we can get light throughout the car. Failure to do this will mean that while the dent looks great from one level, as soon as you take a few steps to the left or right, you can still see the dent.
Step 3: Tool Selection
We have a variety of paintless dent repair tools at our shop to help fix your dent – tools that you won't be able to rent at a local store.
Step 4: Understand how to Fix the Dent
There is really no easy way to explain how to fix a dent on your car. However, we will give you a basic overview:
When a dent occurs in your car, the metal is actually stretched back and transformed. This means that, unlike popular belief, the metal cannot just be pushed out or "popped" back into place. Instead, the metal itself needs to be shifted back to what it originally was.
Doesn't really seem as easy as those tutorials led you to believe, right?
What paintless dent repair does is slowly push the metal back into itself to shrink it back to size. We do this by essentially putting a series of smaller dents that will eventually look corrugated, but will have the metal back to its original size.
Of course, we have to then make sure that the corrugated effect is gone by continuing to mold and mesh the metal back to its original size.
Step 5: Inspection
When we have finished molding and fixing the dent, we inspect the spot in many different lights and angles so that we can ensure that the dent is truly gone. While we are usually satisfied with these first results, we will go back and fix any imperfections that we see. We want your car to get back to you as good as new – literally.
Contact Us!
Collision Center of Andover strives to meet every single one of your car repair needs after a collision or situation that leaves your car in a less than desirable shape. Our team has years and years of vehicle repair under our belts, and we are continually trying to learn the latest and most effective techniques to get you back behind the wheel as soon as possible.
If you are interested in finding out more about our paintless dent removal service or any of the other services that we offer, contact us today and see just how we can help you!