Do I Report a Car Accident to the DMV?
After a Crash: Reporting Requirements in Kansas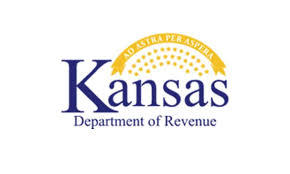 Getting into a vehicle accident, even small ones, can cause a lot of headaches. Fortunately, most accidents do not cause personal injuries. But when you find yourself in a vehicle collision, you may be faced with handling financial, legal and other documentation work. But you may be wondering, do I have to report a car accident to the DMV?
The Department of Motor Vehicles is one organization that you may have to deal with after you are involved in an accident. The Kansas DMV is a division of the Kansas Department of Revenue.
DMV Accident Reports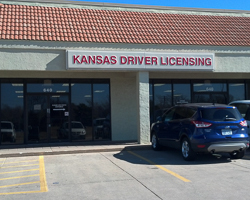 The Kansas Department of Motor Vehicles keeps tracks of a variety of reporting documents. These records include your driving record, your license, your license plate, and your vehicle title. For this reason, the DMV does get involved in some vehicle collisions.
If you get into an accident where the police are involved, the police will notify the DMV with their police reports. Because the DMV keeps track of your driving record, whichever driver(s) were at fault will be reported to them.
If you had a minor collision and no police officer was called to respond to it, you do not need to contact the DMV. If no tickets were issued and no claims need to be filed, there is probably no reason to report the accident to the DMV.
When Do You Need to Contact the DMV About an Accident?
If you were found at fault of a serious infraction, this can cause a lot of issues. You may have to pay more for your car insurance or even have your driver's license suspended. Of course, you want to make sure you don't face any consequences that you don't have to.
Making sure the records are correct is one reason why you may choose to contact the DMV. It's not required, but something worth doing if you suspect wrong information exists. If the officer reported something incorrect, you would want the DMV to correct the information. For example, if you were fined for not having proof of insurance but you do have insurance, you would notify the DMV with the correct information. You can expect to be asked to provide supporting documents of proof.
DMV Reporting & Your Insurance
Whatever gets reported to the DMV does not necessarily also get relayed to your insurance company. If you need to make an insurance claim on a vehicle accident, you would need to contact your insurance company separately.
An insurance company would not typically report anything to the Department of Motor Vehicles. If they do, it's likely because there is an issue related to the records the DMV keeps, such as an insurance lapse or a conviction of a serious offense like a DUI.
An accident that is reported to the DMV will be added to the driving records they keep. It will remain on your record likely for several years. This is true no matter if you were the driver at fault or not.
Kansas Law: What You Have to Report
Every state has its own laws regarding what reporting is required after an accident. Here in Kansas, our law is pretty simple. Whether you get into a traffic accident in Wichita, Andover, or any town in Kansas, you only need to report it to the police.
But not every accident needs to be reported. Traffic accidents that you do NOT need to report include:
Accidents where a police officer comes to the scene (they will report it themselves)
An accident that does not result in property damages exceeding $1000
An accident where no one was seriously injured or killed
Per Kansas state law, you need to file any necessary report as immediately as possible. If you do not report an accident that the law requires, your license could be suspended.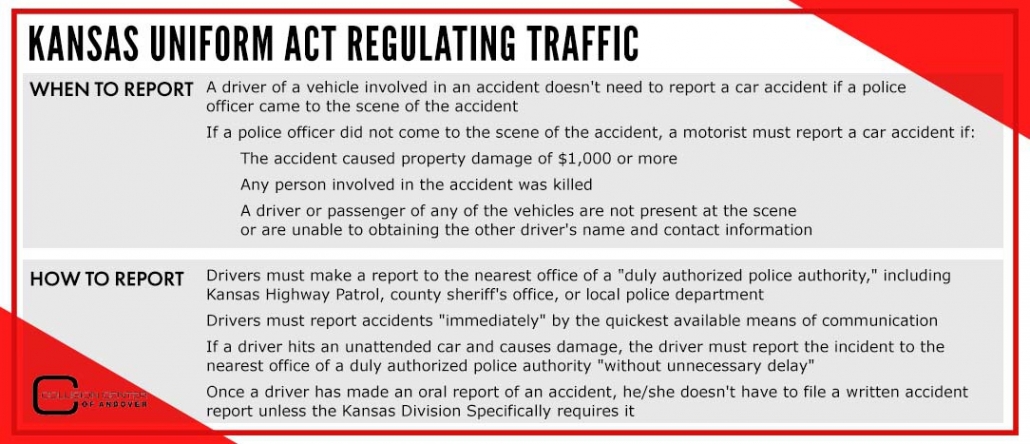 VEHICLE DAMAGE: FULL-SERVICE AUTO BODY REPAIR
If your vehicle was damaged from an accident, you will want to find a reputable local auto body shop that can professional handle any and all problems with your vehicle. While some damage may be easy to spot, there may be other issues like unibody alignment problems that you may not be able to see but are very important to get fixed before driving your vehicle again.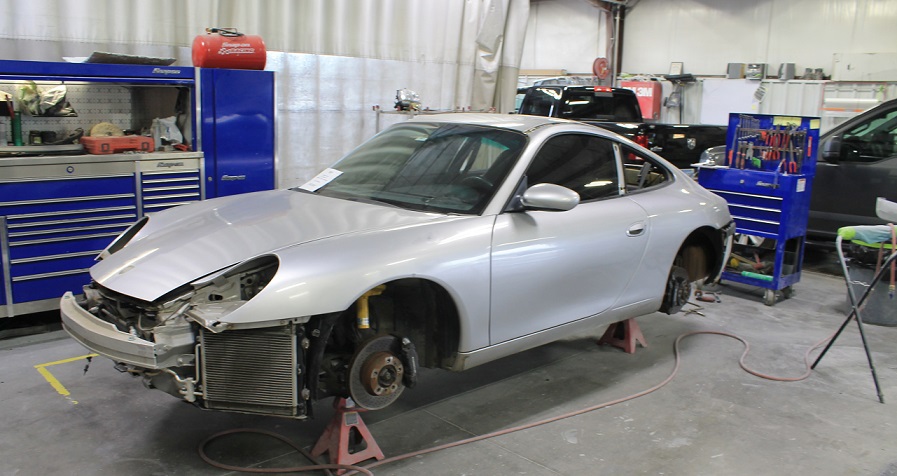 Collision Center of Andover has been trusted to repair cars and trucks in the Wichita area since 2006. Do not wait to get your vehicle looked at if you suspect an alignment problem. Bring your vehicle in to our state-of-the-art auto body shop for a quick and thorough repair. If it's too damaged to drive, you can utilize our towing services.
Our experienced technicians will check everything under the hood to make sure your vehicle is fixed and safe to drive. Give us a call at (316) 733-9310 or request a free quote online. We are conveniently located just a few miles east of Wichita on Andover Rd.